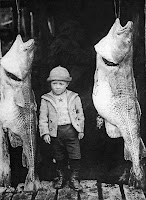 Yes, dysfunctional management in New England...again. Quoting from John Sackton of Seafood.com, which I can't link because it's a subscription site.
Here's a photo (right) to show what we're missing with this foolishness.
Dysfunctional Fisheries Management continues in New England
(editorial comment)
SEAFOOD.COM NEWS - (Editorial Comment) by John Sackton - April 8, 2009 - Because of working for many years in both New England and Alaska, I have long been extremely critical of the New England approach to fisheries management because it has suffered from a fatal flaw: a failure to believe in the basic goal of maintaining fish stocks at their optimum level.
This underlying rejection of the fundamental goals of fisheries management is what has led the New England council time and again to fail to adopt effective measures to rebuild stocks, which now for a generation have been in serious decline.
Now, the council is again acting like a dysfunctional spouse in a domestic abuse case - unable to stop fighting the last war despite the intervention of grownups.
Yesterday, following largely the advice of lawyers based in Gloucester, the council voted again to affirm its rejection of NMFS interpretations of the mixed stock exemption, arguing explicitly that in a situation where many stocks are harvested together, the council has the ability to refuse to rebuild those stocks most at risk if it interferes with the other stocks being harvested at their optimum yield.
NMFS says simply that Magnuson requires action be taken to halt overfishing when a stock is overfished, and it does not matter whether that stock is part of another species complex that may be healthy or not.
In fact in the rest of the country, this is not even an argument. On the West Coast, the groundfish industry accepted severe restrictions due to the depletion of some specific rockfish species. Hitting the rockfish target bycatch even shut down the far larger whiting fishery for a significant time in 2008.
In Alaska, the council just wrestled for days with how to reduce salmon bycatch by the pollock fleet, and at the end of the process, not only did the pollock industry support the lower caps, but said in effect that they would be well under them due to the right combination of incentives. Here again, a billion dollar fishery is being managed partly to protect a smaller and weaker stock.
But the New England council turns this logic on its head. They say that the fact that winter flounder in Southern New England are severely overfished and declining is not a good enough reason to continue existing restrictions on multi-species catches.
At a time when NOAA is asking them to focus on a new sector based management system that will align the interests of the fishing community with long term stock rebuilding, the council is fixated on fighting the last war, seizing the opening given them by an ill-fated intervention of the courts on a two year old ruling.
Why does such a discrepancy in attitude exist? I think it harks back to the failure of regional managers to force allocation decisions on fishing communities. When the first hard TAC's were imposed in New England in the late 1970's and early 1980's, so much illegal fish was being landed that New Bedford unloaded more pounds at night under darkness than they did during the day when inspectors were present.
Other fishermen in Gloucester and Maine openly told me personally how they evaded catch limits by moving in and out of state waters, and taking various action to make their catches untraceable.
This spring, when the Gloucester auction was cited by NMFS for selling illegally caught fish - the reaction has been widespread indignation that they would even get a citation.
The council buckled back then (1982) and abandoned the idea that they would ever shut the fishery down to conserve stocks. Since then, a series of measures involving effort reduction, days at sea, gear modifications, closed areas -- all have failed to gain wide support despite the fact that they did make some progress in stock rebuilding.
Anytime the regulations had to be tightened, various port and state representatives ran to their political allies and said their fishery was being killed.
In 1994, this was first ended by a lawsuit by the environmentalists, in which NMFS admitted it had failed to implement rebuilding measures, and settled an agreement to begin to do so. Since then, it has been a continuous fight to keep those measures on track and working.
The latest row between the council and NMFS is simply another turn in this hundred years war.
The legal memo written by the Gloucester lawyers lays out the explicit argument that some stocks must be sacrificed if they get in the way of the maximum sustainable yield of other stocks. In other words - the fishery must be free to prosecute to the maximum economic value whatever stocks are strong, even at the expense of never ending overfishing on the weaker stocks.
As anyone who has studied ecosystems in fisheries knows, this a recipe for fishing down the trophic chain until jellyfish become the most valuable fishery. It is how many unregulated fishing ecosystems actually work. Harvesters target the most abundant species in turn until nothing is abundant.
In other areas of the country, the industry interests have become strongly aligned with the scientific and regulatory case for keeping multiple stocks at their maximum sustainable yield, and accordingly, the industry supports the needed compromises and effort to make this happen, so long as they have real input and some influence over how these measures are carried out.
In New England, we have not yet even arrived at the point where the industry supports the goals of the Magnuson act. That is why this seems like a fight that will never end.
I actually feel sympathy for Jane Lubchenco, who will address the New England council today. She is going to have to start their re-education from an extremely low level. It seems absurd to me that the head of NOAA has to spend her first month on the job fighting a political fire that should have been settled decades ago.
Tweet